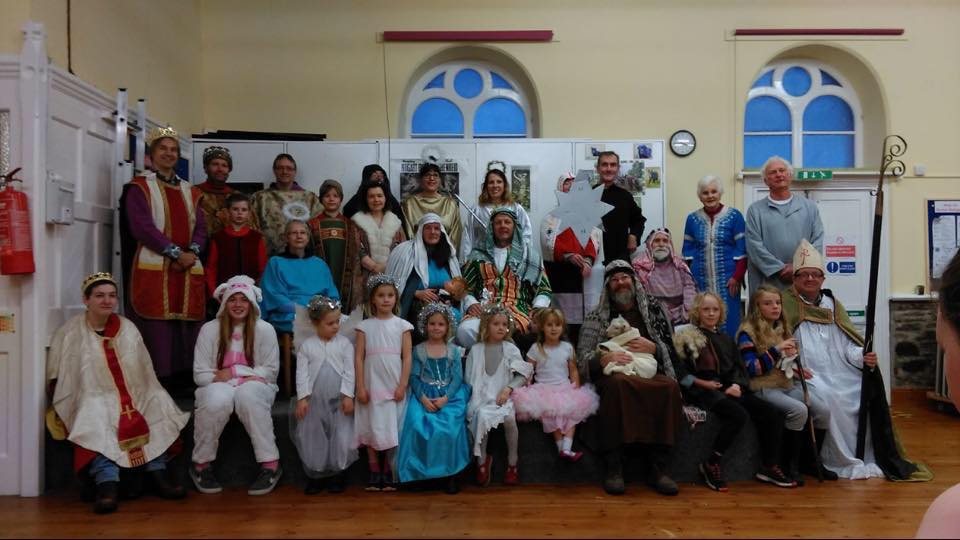 The Christmas Pageant is an annual event originated in the 1980's by Catherine Rachel John, historian and bard. The first Pageant was just a small tableau that stood beside the Christmas tree in Monmouth Square and sang carols accompanied by the Town Band, from that the event grew.
Rachel lived in Lostwithiel for many years and wished to celebrate the story and spirit of Christmas. Many of the garments worn today are the original adorned costumes collected by Rachel for this occasion. The Christmas Pageant is a celebration of the Christmas story told through a walking tableau of local volunteers who dress up as characters including Mary & Joseph, Saints, Kings and Angels to name a few. Every year it is hoped that new volunteers to portray Mary & Joseph will step forward to depict these pivotal roles. Every year a new born lamb also joins the tableau.
The Pageant commences in the Churchrooms mid afternoon on the Saturday following Dickensian evening. All are welcome to volunteer for any of the roles available or to simply enjoy the entertainment from local choirs, dancers and musicians that is put on, along with the coming together of the pageant tableau.
Following this, weather permitting, all are welcome to take part in the singing of carols, accompanied by the Lostwithiel Town Band, at a number of locations in the town centre. Where the weather does not permit this carols are sung within the warm and dry of the Churchrooms. Mulled wine and orange juice are provided in the Scout Hut and then everyone is invited back to the Churchrooms to enjoy homemade soup provided by the Lostwithiel WI. The Pageant is not run for profit and continues on the kind donations of the local community and businesses to assist in the annual running costs.
More information on Christmas Pageant facebook page
Video of Pageant in 1989 (Part 1)
Video of Pageant in 1989 (Part 2)
Above photograph shows 1980 Pageant, which was the second Pageant.
Rachel John is on the far right of the picture.
Photo Credit : Jonathan Barker / Royal Cornwall Museum