What's on
Pram Race Lostwithiel Carnival
Wednesday 25th July 2018, 6:15pm
Location: Around Lostwithiel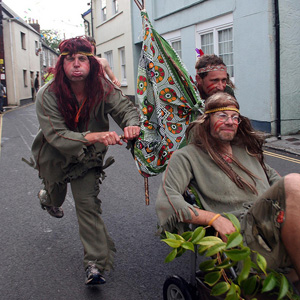 We call on kids, adults and senior citizens, indeed anybody and everybody, to enter the Country Fryer Pram Race. Anyone can form a team of four, including sports teams, social clubs and groups of friends. Hopefully, you will all dress in riotous outfits and race your home-made wacky "prams" through the streets of Lostwithiel to compete for the most prestigious of awards on the World Pram Racing circuit – the 2018 Country Fryer Pram Race Accolade!
It is no exaggeration to say that the requirements of our insurers had put this year's event in jeopardy. The Rotary Club has paid a significant additional premium so that this popular event can continue. Consequently we are having to impose new and strict rules which participants must comply with so that everybody can have a fun filled and safe event.
Teams should consist of four persons, one of whom must be in the pram and wearing a helmet at all times. There should be a minimum of four wheels on each pram and Rotary Stewards will be checking that the construction is safe. Starting and finishing on Parade Square, the route will be the same as last year.
The Pram Race route may be downloaded here
There will be three races starting from Parade Square: under 12 years old (starting at 6:15pm) , under 18 years old (approx. 6:30pm) and adults (approx. 6:45pm). In each category there will be prizes for the winning teams and best fancy dress (prizes again thanks to the Country Fryer). To be sure of taking part, your completed entry form, with parental consent where appropriate, must be returned to Fran's Pantry or Penhaligon's Newsagents by 4:00pm on Tuesday 24th July.
The Pram Race entry form and rules may be downloaded here
We look forward to the usual terrific turnout of spectators and participants, and we are sure you will all have a great time.