What's on
Return of Mini LostFest
Saturday 18th June 2022, 12:00pm to 9:00pm
Location: Parade / Beach Central Lostwithilel
We're excited to announce that LostFest will return on Saturday 18th June 2022. Visit https://www.lostfest.co.uk for more info.
Whilst this year won't be a LostFest as we used to know it (there will be no performers in the streets.) We will have a fantastic afternoon and evening of music and dance on the Parade and Beach.
We will also have a reduced number of items of inflatable fun on the field and a drumming workshop!
We hope to have a number of stalls including those that provide good food, o it will be great fun.
If we get enough volunteers, we hope to have a 'proper' LostFest in 2023. So, now is the opportunity to volunteer!
Please note; there will be no parking arrangements, so PLEASE DO NOT PLAN TO ARRIVE BY CAR.
Update 30th May 2022.

The programme for the day is now available.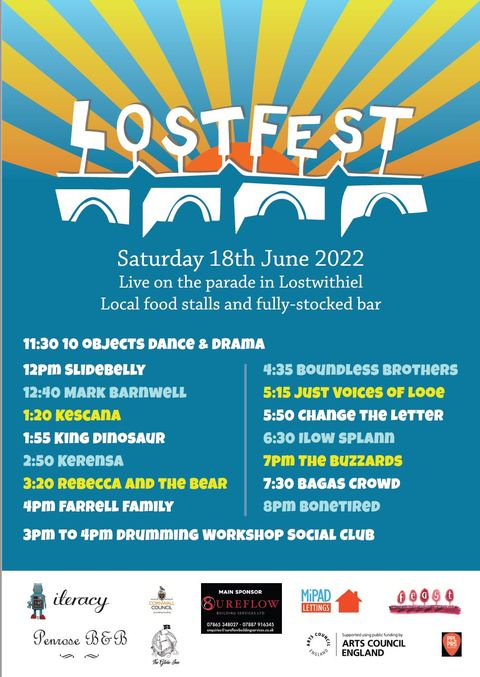 Scroll down to find out more about the performers.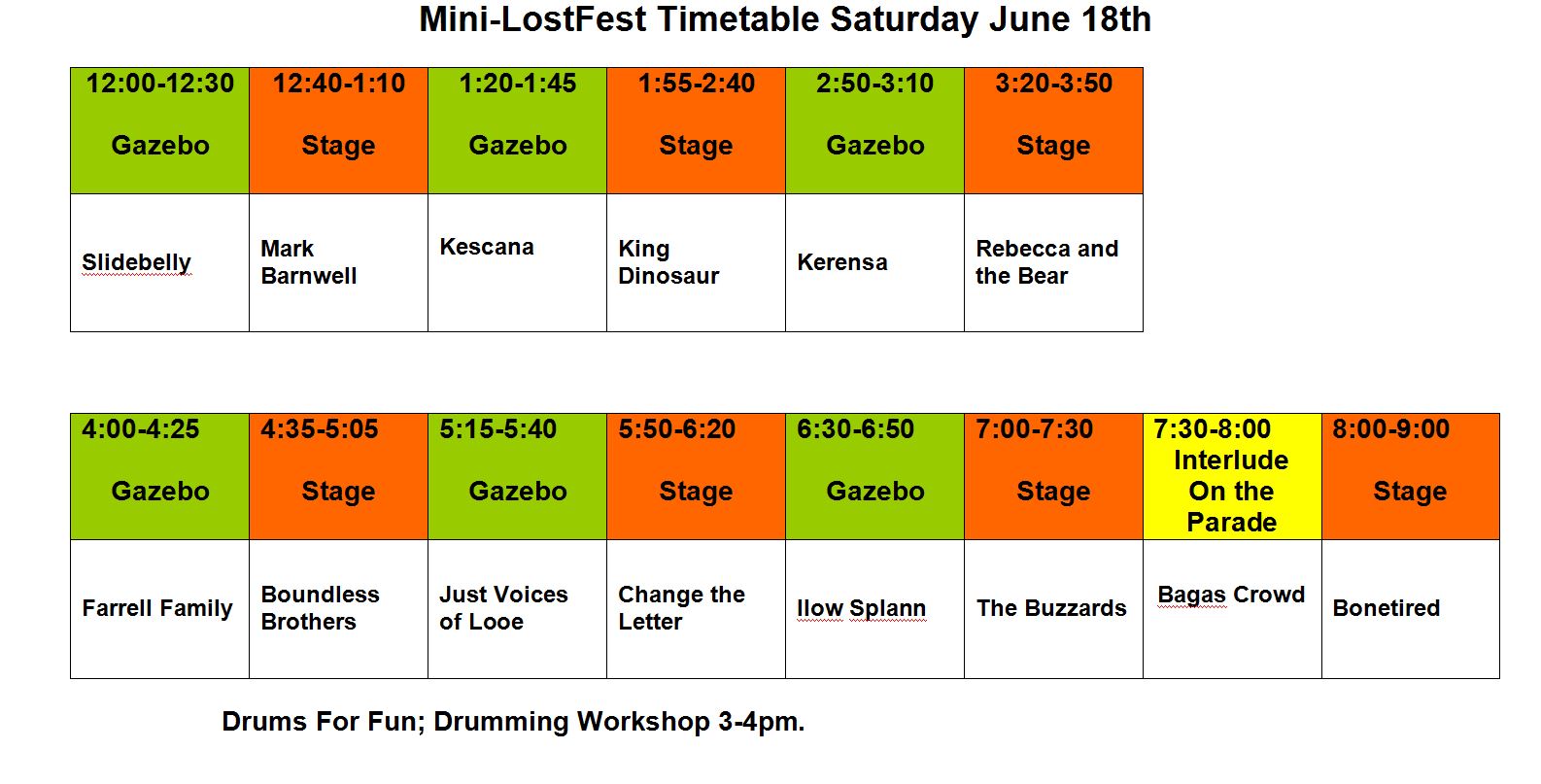 From 3 to 4 pm there will be a drumming workshop organised by Drums4Fun CIC, Cornwall's #1 'Multi Award Winning' Percussion Experience Workshop company, winners of The South West England Prestige Awards 'Music Workshop of the Year' 2020/21 and 2021/22.

-----
Slidebelly: Tony Taylor and Derrek Hines performing as Slidebelly. Over the years Tony Tayor has played professionally with several top musicians such as Charlie Whitney, Del Robinson Band, The Legendary Billy and the Slaptones, Rick Grech and Claire Hamill, The Goonhillys, Sue White and Los Racketeeros.
Change the Letter: Change the Letter are an alternative/roots music duo from Cornwall, formed in the autumn of 2018 by songwriters Rob Phillimore and Rob Griffiths and fusing American rock and country influence with British folk songwriting to craft honest, relatable and memorable songs. https://www.changetheletter.com/
Kescana: A capella female folk group from Lostwithiel. They have a particular interest in the rich heritage of Cornish music, performing songs both old and new. https://www.facebook.com/Kescana/
King Dinosaur: They performed for us at the 2021 LostFest. They were so popular that we have asked them to come back for the 2022 LostFest. https://www.facebook.com/kingdinosaurcornwall/
Kerensa: Kerensa is an assured & devastatingly skilful Hammered Dulcimer player who delivers a performance that is innovative, energetic & confident. She will perform as a double act with Kathy Wallis who is a Cornish folk story-teller. https://www.kerensahammereddulcimer.co.uk/
Kathy Wallis: Outside of education Kathy is an accomplished traditional singer and storyteller and, as well as performing at festivals all over the UK, has performed in the US and Canada. A storyteller in the Bardic tradition, Kathy is steeped in the fabric of the legends of Cornwall, such a delight to listen to in these days when storytelling seems to consist mainly of the telling of elongated jokes. Her proficiency is shown by the fact that she held the Sidmouth International and Chippenham Festival Storytelling trophies at the same time [the latter for three years running and which she now holds in perpetuity], and is now the storyteller in residence at the Moira Festival. http://www.gibraltarliteraryfestival.com/speakers/2016/kathy-wallis-48
Rebecca and the Bear: Alternative folk/rock cornwall-based band. Rebecca Stoneham, Di Stoneham, Paul Young and Richard Archibald. They say they "tell bad jokes and play good music ;)" https://m.facebook.com/rebeccaandthebear/
The Farrell Family: A local musical family group who are returning to LostFest. They specialise in radical songs from the English, Irish, Scottish and Cornish traditions. https://www.farrellfamilyband.co.uk/
Boundless Brothers: Cornwall-based Folk-Rock / Pop band, brothers Sam and Seb Wilson, Bo Payne and Robin Curtis. They've built up a well respected reputation across the South West of England. Living in Cornwall, following their passion for playing live music and recording, the band have been performing relentlessly to bring their music to audiences of all ages. https://www.boundlessbrothers.com/
Just Voices of Looe: group of female singers of a cappella harmonies, covering a range of music from pop to jazz with lots of the old standards thrown in for good measure. https://www.facebook.com/Just-Voices-of-Looe-1560054787590380/
Mark Barnwell: Mark is a professional Spanish guitarist based in the South West of the UK. His experience of live performances spans over 35 years. His repertoire includes Latin, contemporary and world fusion as well as traditional Spanish guitar pieces. https://www.markbarnwell.com/
Ilow Splann: A duo comprising Maggie Willmott and Carlton Crouch that specialises in Cornish music and early music. Maggie plays violin, recorder(s), keyboard and bodhran whilst Carlton plays border pipes, saxophone, recorder(s), cornamusen, (maybe bombarde), guitar and bouzouki. Both Maggie and Carlton sing. The duo is based in South East Cornwall. https://www.facebook.com/ilowsplann/
The Buzzards: Based in Mid Cornwall, they play an eclectic mix of Americana, Blues, Rock and Folk featuring vocals, guitar, harmonica, fiddle, mandolin and bass https://www.facebook.com/The-Buzzards-Cornwall-100197554668953/
Bagas Crowd: Cornish for fiddle group, was set up in 2001 by fiddle teacher and workshop leader Frances Bennett who wanted her students of all ages and abilities to be able to get together to arrange and perform Cornish Celtic music. https://www.facebook.com/groups/51180869617/about
Bonetired: When this band (then called "The Woods" first started out as a group of Wadebridge School teenagers, LostFest gave them an early break. Now they are a popular and accomplished group. They play a blend between the rough and the polished which sees them appealing to an incredibly wide range of music fans.
Notably, Bonetired has sold out venues in Falmouth and have had over 25K streams in 68 countries from their debut single Embers. Already, the band has toured through the Netherlands, Belgium and the UK. https://www.facebook.com/bonetiredmusic/reviews/?ref=page_internal