Good News Stories from Lostwithiel
A selection of services available, activities and offers of help.
SHOPS AND SERVICES OPEN
Kerno Forno
From a Kerno Forno facebook post 3rd Feb 2021
"Good news, Lostwithiel chums.
We've decided the time has come to bring back pizza Mondays outside the community centre. So, here's the deal.

Starting from Monday 8th Feb, we'll be outside the community centre, initially from 5-7pm, every Monday UNLESS the weather is really grim. Please keep an eye on social media and for the blackboard on the verge outside. No blackboard means we are giving it a miss. "
Takeaway food is allowed within the lockdown rules and we are comfortable that we can cook for you safely, but please do try to come down on your own if you can and stick to the social distancing rules so that we don't find ourselves inadvertently creating a crowd.
We've missed you and can't wait to create a little slice of normality.
Duchy of Cornwall Nursery


From their newsletter dated 28th January 2021:-
"We are delighted to announce we will be opening again next week and although we thought best to close our doors these past few weeks, we have been busy preparing all areas, knowing we have brighter times ahead and the joy of spring in our gardens.
From Monday, the nursery, shop and glasshouse will be open in full, all with a fresh new look and ready to give everyone that much needed boost of positivity. We will also be offering a small take-away menu in the cafe to be enjoyed in the car or to take home. For now we will be opening Monday to Saturday and closed on Sunday."

Facebook post from Asquiths 24th January 2021
"We are going to start doing takeaway again this coming Thursday 28 Jan. The refurbishment of the dining room is going really well but please excuse any untidiness. As before please phone the restaurant to arrange a collection time and day. Many thanks, Sally and Graham." More details on Asquiths facebook page.
Facebook post from The Earl of Chatham 6th January 2021
"Remember this Friday we are starting takeaways/deliveries again. Friday and Saturday 4-9 and sundays 12-7.
Call us on 01208872269 to book. More details and menu on facebook.
9th January 2021 - Lanhydrock House Grounds Open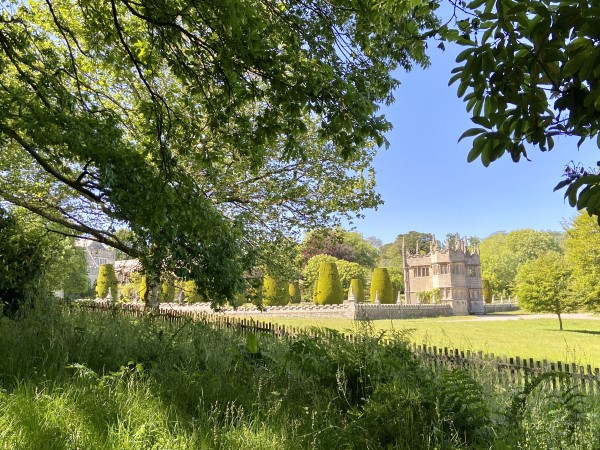 Lanhydrock House
Image Credit: Lindsay Southgate
From National Trust facebook page 7th January 2021

"The Lanhydrock countryside remains open for local visitors to access fresh air and open space for exercise in line with government guidance. No booking required, both main and Respryn car parks are open, parking charges still apply (£5 all day, £1 for 1 hour or free for members).
The Park Cafe remains open for takeaway drinks and cake only. The plant centre and cycle hire are now closed for the duration of lockdown. The cycle trails remain open. Toilet facilities open at the hub only, courtyard toilets are closed. The house and garden remain closed until 1 March at the earliest. The Peter Rabbit trail is now closed. Thank you for helping us remain open safely by following Government guidance and staying local."
CASTLE BREWERY
A message from Theo from Castle Brewery on 8th January 2021:-

"Breweries are still allowed to continue with off sales. So, I am still continuing with home deliveries via https://brew2you.co.uk/store/412. However the Off-Licence has been closed during lockdown, to stop people making trips out"
Facebook post from Annie's Comfort Food 5th January 2021
"Annie's comfort food will continue trading during this lockdown. Hou's are 8-2 Monday to Saturday."

Annie's is located at Downend Garage opposite St Winnow School on A390. Contact details here
Facebook post from THE COUNTRY FRYER 5th January 2021
We are back open, tues-sat 12pm- 2pm and 5pm- 8 pm. Collection only, face masks must be worn sorry no exceptions of this. At the moment we are not accepting telephone orders, hope to see you all soon.
Renny & Kathy
Lostwithiel Library


From a Lostwithiel Town Council Facebook post 6th November 2020
"We are pleased to be able to advise that the Lostwithiel Library click and collect service on a Wednesday between 12.30-2.30pm will continue during lockdown. However, in accordance with Government instructions, the outdoor gym has been closed as has the skatepark"
**********************
Cornwall R
ecycling centres Open
From Cornwall Reports dated 2nd November

Cornwall's household waste recycling centres will stay open during the next Covid-19 lockdown. The Cornwall Council cabinet member responsible, councillor Rob Nolan, Tweeted: "Hot News! We are assured by the Minister that HWRC's can stay open! Phew! But the odd/even number plate system will continue."
Don't forget the vehicle number plate system, to limit the number of people visiting each day. Read the rules before you travel!
**********************
Facebook post from Choughs 30th November 2020


We certainly are ready for Christmas in Choughs. Mince pies, quality street and twiglets being nibbled, with good old Christmas music filling the shop. However, most importantly we have loads of Christmas gift ideas. All of our 30 crafters have been busy during lockdown and the tables and shelves are stacked with goodies.
We open again on 3rd December and will be open 7 days a week until Christmas. Mon-Sat 10-5 and Sunday 10-3 please come in and say hello. Vicki & Lita xx
Duchy of Cornwall Nursery
Now open from 10am-4pm, Monday to Saturday. Closed on Sunday.
The cafe is serving a take-away menu. Details available via this link Above information based on a newsletter issued 6th November Click here to read the full newsletter
**********************
From Ann's Gallery on 11th November
"All our new stock is now in the window and more to follow over the next few weeks.
If like the cards you see something you would like please don't hesitate to give us a ring. We will arrange a time for collection from the shop door.


01208 872828. Sorry cash only sales. Ideally the correct amount."
Facebook post from Annie's Comfort Food 4th November 2020
Evening all, just to let you know that I will continue to trade during this lockdown. Hour's are the same 8-2 Monday to Saturday.
Be good to see you as always. Thank you for your support.


Annie's is located at Downend Garage opposite St Winnow School on A390. Contact details here
**********************
**********************
Facebook post from Nigel Ede 4th November 2020
·

Experience Wine on Restormal Industrial Estate in Lostwithiel www.experiencewine.co.uk will still be open from 9.30am-5.30pm for collections during lock down and we also offer local and national deliveries
**********************
Facebook post from Colwith Farm Potatoes and Farm Shop 31st October 2020

·

Shop Update:

Following the latest announcement we just wanted to reassure you all that we are still able to assist you as normal.

📍Opening hours: 8.30-6 Monday to Saturday and 9.30-5.30 on Sunday.

👩‍🌾 We stock a lot more these days than the last lockdown which had moments of craziness (flour and potatoes!) Please be assured we are trying our best and ordering fresh produce daily (when we have no idea on volume this is no easy task!) we will continue to work closely with our suppliers. There really is no need to panic.

🥔 We have plenty of potatoes fear not!

Fresh fruit and veg. Bakery items. Baking ingredients, meat, milk, dairy and non, eggs, cold drinks, logs, kindling, coal, treats, sweets and chocolate, frozen pasties, preserves, sauces and alcohol too. Quite the selection. We may be small but behind the scenes we are big with additional storage that we top up the shop regularly.

⚠️For safety and reassurance we are still and will remain one family at a time. (Ie If you arrive in the same vehicle). This may mean some light queuing at times and we thank you for your continued patience.

📱Our click and collect service is available. www.colwithfarmshop.co.uk

For stock control not everything is listed here but a pretty good selection which is adjusted to what we have actually in stock. Arrive at the shop and pop your boot open at the allocated time.

❤️Thank you for your ongoing support. Backing British Farming, our local supply networks and more❤️


Thank you Colwith Farm Shop - at Lanlivery PL22 0JG

~Stay safe everyone~
**********************
**********************
Shops OPEN
Atticus & Willow Reopens 18th June
"In accordance with the Government's guidelines regarding the re-opening of non-essential shops, I'm pleased to announce that Atticus & Willow will be opening it's doors again on Thursday 18th June with limited opening hours of Thursdays, Fridays & Saturdays from 10 am to 4 pm.
Having carried out a risk assessment we will be limiting the number of people into the shop at any one time and will be asking customers and visitors to respect the hygiene and social distancing instructions displayed outside and within the shop.
In light of the guidelines regarding bookshops, Lost in Books will have a limited supply of books available to buy in store and will mainly be trading online, although Mel and Amanda will continue to work collaboratively and you will still be able to order and collect books in the shop and also buy and use National Book Tokens.
In the meantime, we would both like to thank everyone for your continued support, stay safe and we look forward to seeing you again soon xx"
Bellamama Deli - OPEN
Stock update 24th March 2020 from Facebook :
Stock update on some of your essentials from the Deli this morning:-
Local Organic Free Range Eggs are now back in stock.
From later this week I hope to be able to offer bags of cake baking and bread making flour.
I can't get hold of yeast at all, not even for my own bread making. I'll keep trying and will let everyone know if I can hold of any.
Pasta, tomato pasta sauces and Biscotti (not necessarily 'essential') are also now well stocked up.
I'm baking every day (except Sunday) and will continue to do so. Don't forget my bread is also available at the Puddle Farm Shop in Lanlivery.
Choughs - Re-opens 15th June

From an instagram post 4th June 2020
"We are so pleased to announce that we are re-opening on Monday 15th June as per the government guidance. Please visit us and have a look at our fresh stock, we have been busy making and painting during lock down. From 15th June we will be open Monday - Saturday 10.00 - 3.00 please adhere to the social distancing rules, hand sanitiser will be available at the door and please be prepared to pay by card or have the correct money. We are both looking forward to re-opening and seeing you all again in Choughs."
The Country Fryer Re-Opens
Facebook post from Renny Fenton May 1st at 4:35 PM
"The Country Fryer will be back open, Tuesday 5th May. Hours 12pm-2pm and 5pm-8pm.
To keep everyone safe we will be operating a strict queuing system, where possible one in one out.
Hope to see you next week."
Duchy of Cornwall Nursery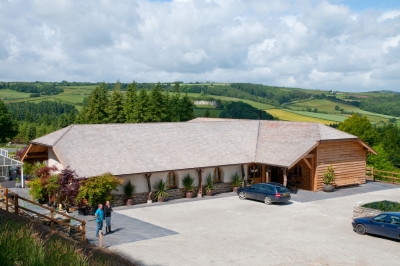 from a facebook post 12th May

"Following this weeks Government announcements we will be opening on Friday 15th May at 10am.
For the safety of our staff and customers, we will have social distancing and other hygiene measures in place which we kindly request are observed during your visit. Although we will endeavour to present the widest offer possible to our customers we may at times find ourselves limited on certain stock items and some areas may be restricted. Our call and collect service and bulk delivery options will also continue. The cafe will remain closed until further notice.
From Friday our opening hours will be Monday to Saturday 10am to 4pm. Sunday closed.
We very much look forward to welcoming you back!"
The Garden Gate Flower Company - 'Flower Friday Club'
Facebook Post on 21st April:
"I'm super excited to announce the launch of 'Flower Friday Club' For my local followers you can now order my £10 posies by 10am each Thursday and collect them from @bellamamadeli in Lostwithiel between 12 midday and 4pm. Orders are placed via phone or email and payment is via BACS. Ingredients will change each week as more blooms join the scene!!! If you want to go large(!) I'll have £35 gift bouquets available to order too"
tel: 07 427 686 558
email: thegardengateflowercompany "AT" gmail.com
Golden Dynasty Chinese Take Away
Golden Dynasty will be reopening on Wednesday 29th April between 17:30-21:30 for DELIVERIES ONLY, all payments in cash please. Phone: 01208 873199
Homefront -Opening 17th June
From a facebook post 4th June:-
"Work in progress!... rearranging Homefront and look forward to re-opening on Wednesday 17th June"
Penhaligons News - OPEN
Facebok Post on 26th March:
"With effect from tomorrow Friday 27th March, our opening hours will change to 8am-5pm.

This will enable us to get our newspaper deliveries out without distractions and also to deal with the large amount of morning goods that are being delivered.

Supplies of milk, bread and fresh produce are good. We are offering grocery deliveries to our older and more vulnerable customers. If you would like a delivery give us a call but please not before 11am, and we will do our best to accommodate you.

We thank you for your continued patience and understanding during this very difficult time and also to our superb staff who have continued to work under great pressure."
See Penhaligons facebook page for latest updates
The Royal Oak Inn

Facebook post from Royal Oak 27th June 2020
Hi everyone...... We will be ceasing our delivery and takeaway service from this evening, Saturday 27th June.
This is so we can take a little break and prepare the pub for re-opening on Saturday 4th July at midday.
We would like to thank everyone who has supported us over the last three months.
We look forward to welcomying you all back to the 'NEW' Royal Oak to see the changes we have made and to have a socially distanced drink with you in what will be the 'new normal' !!
Take care and see you soon.
Graham and Simon.

See Royal Oak Facebook for updates
The Globe
The Globe Isolation support food service ended on Sunday 28th June.
See Globe Inn Facebook page for latest updates
Nelly's - OPEN


"Just to let you all know that Nelly's will be continuing as usual. Pasties (cooked or frozen), pies, bread, eggs & milk. Call 01208 872407 for orders"
Message from Nelly's on 5th April:-
"Our new 2 day a week delivery service will start this coming Tuesday. Please help us by ordering the day before.
Pies and pasties will be cooked for you to reheat or freeze. Pasties (and nothing else) can be provided raw and frozen if required.
Prices are between £1.80 for flans and £3.00 for pies and pasties. Delivery around Lostwithiel is free.
Please help us to keep it simple by not asking lots of questions!! Card payment can be taken over the phone.
We look forward to seeing you (through the window)!"
Check Nelly's Faceboook for updates
Q Street Coffee reopens 4th July
From an Instagram Post 11th June 2020

"Looking forward to opening for takeaway away service Sat 4th July @ 10am.
It feels like so long since we were here doing what we love! Can't wait to see you all again."
A P Bassett Solicitors
Message posted on facebook April 8 at 6:29 PM:-
"We are still open for business but working in a different way to ensure everyone is kept safe.
Please phone us on 01208 871485 between 10am and 4pm Monday to Friday for any enquiries. There will always be someone here to take your call."
Beer deliveries from Fowey Brewery
Facebook message from Fowey Brewery 26th March 2020
How are your beer supplies holding up?
We are able to make local deliveries around Lostwithiel if anyone is interested... £30 for a case of 18 mixed bottles of your choice.
We are also offering a buy & collect from our Brewery in Lostwithiel between 3 & 5pm this Friday 27th, minimum purchase half a case for £15. Ideally payment by contactless, to comply with government social distancing advice, please message us for further information, or if you would like to place an order.
Help and assistance
Community Centre Bookshop

From a facebook post by Pam Jarrett on 30th April:
"Lots of people have been asking about books to read so I have extended the Community Centre bookshop to outside my house 10 til 8 when dry. Books and dvds 50p each. If you have books to donate please leave in bag on doorstep.

Books also available at centre during post office open times Mon pm Thurs am.

Suggest books picked are put in quarrentine for 3 days before reading 😁"
Lostwithiel Young Farmers - Collection and Delivery Service
Lostwithiel Young Farmers Club would like to offer a collection and delivery service in wake of the recent COVID-19 situation for the elderly and vulnerable in our community. Lostwithiel, Lerryn, Boconnoc, Lanlivery, Golant, Tywardreath, Par, Fowey. If you would like our help or know someone who does contact Abi on 07760191384 😊👍🚜🐮
Help with Schoolwork
Michelle Nineham posted the following on Facebook on March 18 at 7:36 PM ·
"It's rare for me to post something here but I am happy to help!
While the world begins homeschooling/remotely/digitally educating our children, if you need assistance with understanding something that has been assigned for your child, or if you need more resources, just give me a shout. I am happy to answer questions. If I don't know the answer, I can try and find someone who does! My specialities are Science 11-16 and Psychology 16-18 but I'm used to teaching most secondary school subjects."
Contact details for Michelle here.
CV-19 Support Group for Lostwithiel
Local facebook support group with over 300 members. Find out more
To make you smile
Stay Safe Rainbows
Look out around town for rainbows in windows:
Lanhydrock Accountancy Practice
------------------------------------------------
Lostwithiel get singing for those still working - Thursday 2nd April at 8pm
Message from Emma Mansfield
"Lets sing for the all the workers who are out there keeping our world turning! From the doorsteps, balconies and windows of Lostwithiel - lets inspire the nation - this Thursday at 8pm - get involved."
------------------------------------------------
Lostwithiel Bear Hunt
As you walk around Lostwithiel for your daily exercise or essential purchases, look out for teddy bears in windows.
From Lost Voice Community Facebook page
------------------------------------------------
Lost In Song
Emma Mansfield shared a wonderful version of a classic Amy Winehouse tune:
Trouble viewing video? Click here
--------------------------------
Daily Exercise
There are several pleasant walks around Lostwithiel. For example take a look at this page