Good News Stories from Lostwithiel
A selection of services available, activities and offers of help.
SHOPS AND SERVICES OPEN
Kerno Forno
From a Kerno Forno facebook post 3rd Feb 2021
"Good news, Lostwithiel chums.
We've decided the time has come to bring back pizza Mondays outside the community centre. So, here's the deal.

Starting from Monday 8th Feb, we'll be outside the community centre, initially from 5-7pm, every Monday UNLESS the weather is really grim. Please keep an eye on social media and for the blackboard on the verge outside. No blackboard means we are giving it a miss. "
Takeaway food is allowed within the lockdown rules and we are comfortable that we can cook for you safely, but please do try to come down on your own if you can and stick to the social distancing rules so that we don't find ourselves inadvertently creating a crowd.
We've missed you and can't wait to create a little slice of normality.
Duchy of Cornwall Nursery


From their newsletter dated 5th May 2021:-
"Our new spring menus are now up and running and we have some incredibly tasty and seasonal dishes to enjoy. If you haven't already seen what is available, please click here to see the full menu.
We are also delighted that from Monday 17th May we will be able to return to 'normal' with seating also available inside the cafe.
Please remember, as before bookings are not required for breakfast, lunch, cream teas, coffee and cake. You only need to book for our 'Duchy Nursery Afternoon Tea' which needs 48 hours in advance notice. Details available on our website.
Facebook post from Asquiths 26th April 2021
"This will be our last week of takeaway so that we can concentrate on reopening on Wednesday 19 May. Please give us a call if you would like something. Huge thanks to everyone who has supported us throughout the current restrictions. Hope to see you soon, Sally and Graham.." More details on Asquiths facebook page.
Facebook post from The Earl of Chatham 7th May 2021
"New benches have arrived
We can now seat more people in the carpark area.
Booking in advance is still highly advised as we hate having to turn people away"
More details on facebook.
The Globe
Opening 17th May 2021
See Globe Inn Facebook page for latest updates
Facebook post from Colwith Farm Potatoes and Farm Shop 12 April 2021


As we welcome tourism back to Cornwall on April 12th we want to remind and reassure you that our shop will remain one customer/family group at a time.


Monday to Friday 8.30 - 6PM
Sunday 9.30 – 4PM


Our local line up is continuing to grow! Lots of fresh fish this weekend as well as some new beers and ales, treats and more!


Located PL22 0JG
Lanlivery junction, between Lostwithiel and St.Blazey
Don't forget you can use our click and collect service for delivery to your boot. www.colwithfarmshop.co.uk Choose your slot and arrive at our premises for no contact collection.


Thanks for supporting local and in turn our farming friends and networks.
May 2021 - Lanhydrock House Grounds Open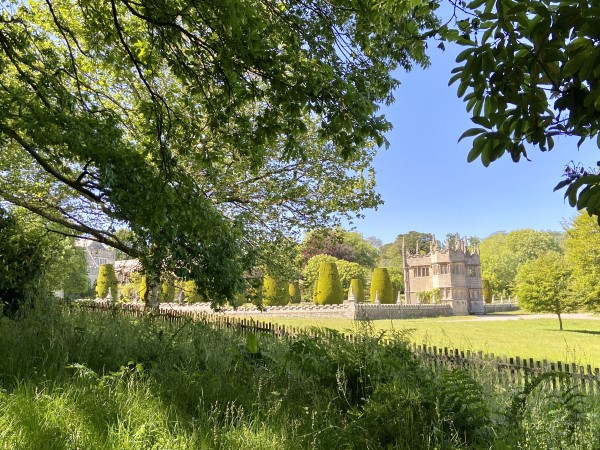 Lanhydrock House
Image Credit: Lindsay Southgate
Opening Times and on-line booking details available on their website.

CASTLE BREWERY
Update May 2021 :-

Home deliveries available via https://brew2you.co.uk/store/412.
Off-Licence Open Friday afternoons 2-5pm
Check facebook for latest news.

Facebook post from Annie's Comfort Food 5th January 2021
"Annie's comfort food will continue trading during this lockdown. Hou's are 8-2 Monday to Saturday."

Annie's is located at Downend Garage opposite St Winnow School on A390. Contact details here
Facebook post from THE COUNTRY FRYER 5th January 2021
We are back open, tues-sat 12pm- 2pm and 5pm- 8 pm. Collection only, face masks must be worn sorry no exceptions of this. At the moment we are not accepting telephone orders, hope to see you all soon.
Renny & Kathy
Lostwithiel Library


From a Lostwithiel Town Council Facebook post 6th November 2020
"We are pleased to be able to advise that the Lostwithiel Library click and collect service on a Wednesday between 12.30-2.30pm will continue during lockdown. However, in accordance with Government instructions, the outdoor gym has been closed as has the skatepark"
**********************
Cornwall R
ecycling centres Open
From Cornwall Reports dated 2nd November

Cornwall's household waste recycling centres will stay open during the next Covid-19 lockdown. The Cornwall Council cabinet member responsible, councillor Rob Nolan, Tweeted: "Hot News! We are assured by the Minister that HWRC's can stay open! Phew! But the odd/even number plate system will continue."
Don't forget the vehicle number plate system, to limit the number of people visiting each day. Read the rules before you travel!
**********************
**********************
From Ann's Gallery on 11th November 2020
"All our new stock is now in the window and more to follow over the next few weeks.
If like the cards you see something you would like please don't hesitate to give us a ring. We will arrange a time for collection from the shop door.


01208 872828. Sorry cash only sales. Ideally the correct amount."
**********************
Facebook post from Nigel Ede 4th November 2020
·

Experience Wine on Restormal Industrial Estate in Lostwithiel www.experiencewine.co.uk will still be open from 9.30am-5.30pm for collections during lock down and we also offer local and national deliveries
**********************
**********************
Shops OPEN
Penhaligons News - OPEN
See Penhaligons facebook page for latest updates
A P Bassett Solicitors
Message posted on facebook April 8 2020 at 6:29 PM:-
"We are still open for business but working in a different way to ensure everyone is kept safe.
Please phone us on 01208 871485 between 10am and 4pm Monday to Friday for any enquiries. There will always be someone here to take your call."
Beer deliveries from Fowey Brewery
Facebook message from Fowey Brewery 26th March 2020
How are your beer supplies holding up?
We are able to make local deliveries around Lostwithiel if anyone is interested... £30 for a case of 18 mixed bottles of your choice.
We are also offering a buy & collect from our Brewery in Lostwithiel between 3 & 5pm this Friday 27th, minimum purchase half a case for £15. Ideally payment by contactless, to comply with government social distancing advice, please message us for further information, or if you would like to place an order.
Help and assistance
Community Centre Bookshop

From a facebook post by Pam Jarrett on 30th April 2020
"Lots of people have been asking about books to read so I have extended the Community Centre bookshop to outside my house 10 til 8 when dry. Books and dvds 50p each. If you have books to donate please leave in bag on doorstep.

Books also available at centre during post office open times Mon pm Thurs am.

Suggest books picked are put in quarrentine for 3 days before reading 😁"
Lostwithiel Young Farmers - Collection and Delivery Service
Lostwithiel Young Farmers Club would like to offer a collection and delivery service in wake of the recent COVID-19 situation for the elderly and vulnerable in our community. Lostwithiel, Lerryn, Boconnoc, Lanlivery, Golant, Tywardreath, Par, Fowey. If you would like our help or know someone who does contact Abi on 07760191384 😊👍🚜🐮
CV-19 Support Group for Lostwithiel
Local facebook support group with over 300 members. Find out more
To make you smile
------------------------------------------------
-----------------------------------------------
Lostwithiel Bear Hunt
As you walk around Lostwithiel for your daily exercise or essential purchases, look out for teddy bears in windows.
From Lost Voice Community Facebook page
------------------------------------------------
Lost In Song
Emma Mansfield shared a wonderful version of a classic Amy Winehouse tune:
Trouble viewing video? Click here
--------------------------------
Daily Exercise
There are several pleasant walks around Lostwithiel. For example take a look at this page