Guide to floods in Lostwithiel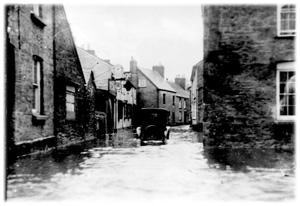 Throughout its history, Lostwithiel has always been affected been affected by flooding. It sits on a tidal stretch of the Fowey river which was heavily silted up by tin mining in the 14th Century.
Early photographs show flooding in Queen Street and North Street, similar to what has been experienced in recent years.
Flooding affects specific areas and the majority of the town and roads are unaffected. Although some areas such as Coulson Park are regularly submerged, severe flooding which affects properties is rare. The information below is for anyone who is concerned they might be affected. You can get updates on the Lostwithel Flood Group Facebook page.
Below: Queen Street in the early 1900s (left) and in 2010 (right)
Film about the 2010 floods and the Lostwithiel Flood Plan
Am I at risk?
The areas at risk of flooding are marked on this Environment Agency map of the areas at risk from tidal flooding and those at risk from fluvial (river) flooding (zoom in). Flood risk areas are divided into sectors and each sector has a named Flood Warden.
Different types of flooding
Parts of Lostwithiel are at risk of tidal flood, fluvial flood (from the Fowey river) and flash floods (rain running off hills). When rainfall levels are very high, ground water flooding can also be a threat to particular properties. The levels of flood warnings are:
Flood alert (amber) - means flooding is possible, be prepared. Used 2 hours to 2 days in advance of flooding.
Flood warning (red) - means flooding is likely, immediate action is required. Used 30 mins to 1 day in advance of flooding.
Severe warning - means severe flooding, danger to life.
What can I do?
There are several steps you can take if you are concerned about flooding:
Keep informed - you can check the flood situation on the Environment Agency website or ring the EA Floodline on 0845 988 1188 (select option 1 and enter Quickdial number 0413)
Sign up to alerts - you can register on the the Environment Agency Floodline Warnings Direct which will text, ring or email you if with flood alerts and warnings
Know your flood wardens - make sure you know who your local flood wardens are and let them know if there are circumstances you should be aware of, such as mobility issues, living alone or times when your property is empty
Have a flood plan - make a check list of what to do in case of a flood, so you don't need to make decisions in an emergency situation. Download and fill in the Government Personal flood plan template.
Routine protection - there are many steps you can take to protect against or minimise flooding such as flood guards, covers for ventilation bricks, "non-return" values on pipes, raising damp-proof courses and sealing floors. Information available on the BBC site, the Environment Agency (special guide to groundwater flood protection here) and the Flood Protection Association
Emergency protection - sandbags are heavy to lift and degrade over time. There are modern alternatives which are much smaller to store and expand as when immersed in water, such as Hydrosacks and Hydrosnakes and Quicksandbags. There are many companies offering these types of products, National Flood Forum has a directory you can browse. Within Cornwall sandbags may be obtained from Handy Sandbags based in Truro.
Become a flood warden - contact Lostwithiel Town Council and become a volunteer flood warden.
Will I be able to get insurance?
If your property has been flooded in the past or the area has a history of flooding, insurance can sometimes be difficult to find but it is essential for anyone at risk of flooding. DEFRA have produced a guide to obtaining flood insurance cover in high risk areas and there is also help available from the National Flood Forum, an independent organisation who can advise you.
What happens when there is a flood?
If water is entering your property you should ring the emergency services on 999.
However this situation is unlikely to happen without local flood wardens or emergency services being on the scene to advise you.
If there is a flood alert, flood wardens will assess weather conditions, river levels and tide heights to see if there is a risk to property. If there is a chance of flood, they will inspect their sector to check that drains are clear, valves are working and that passive flood protection measures (such as gates) are secure.
Flood wardens may advise you to move your car, take valuables and pets to a safe place and put active flood protection measures (such as flood guards) in place.
Sandbags are no longer distributed by Cornwall Council.
If you are concerned, there are measures you can take yourself to protect your own property in advance (see above).
Flood safety
Flooding can be a very dangerous situation if you do not take care. Emergency services and volunteers are very busy and their time is often taken up by people putting themselves at risk unnecessarily.
If the river is very full and fast flowing, it is extremely dangerous to walk alongside a river bank when the river is very high. It is very easy to slip into the water. Many people put themselves in dangerous situations to watch the river or take photos or videos - please stay well away from the edge of rivers and keep close control of children and pets. It's easy to become trapped by rising waters so if signs or barriers have been put up, obey them.
Wading in flood water, even shallow flooding, can also be dangerous. Not only are hazards and obstacles hidden by water, but flood water can sometimes pop up sewer covers. Falling into one of these would be extremely dangerous. For this reason, the emergency services always use walking poles and life preservers when wading in flood water.
What measures have been taken in Lostwithiel?
Since the severe flooding in November 2010, a great deal of work has been done in and around Lostwithiel to reduce the risk of flooding:
Expanded culvert and underground pipes on Tanhouse Road for the Cober - following the flash flood in November 2010 when drains on Tanhouse Road were blocked by debris washed from fields and woods, the capacity of the underground pipe and culvert for the Cober has been greatly increased.
Non return valves in the flood defence wall along Quay Street - the core function is to allow flood waters that arrive onto Quay street to flow into the Fowey, assuming that the river level will allow this, i.e. it is not too high. The secondary function is to prevent river water entering Quay Street to such an extent as to be a risk to nearby properties. They are designed to allow a small amount of seepage i.e. they do not seal 100%, but they are regularly assessed and adjusted to get the right balance.
Storm water storage tank - a 20m wide, 10m deep storage tank was completed in early 2013 in farmland opposite Coulson Park. This has been designed to store storm water received by the sewage pumping station during times of heavy rain. It is connected to the pumping station by a new pipe under the River Fowey and will mean that there will be fewer discharges from the pumping station into the river during storms, protecting shellfish beds downstream.